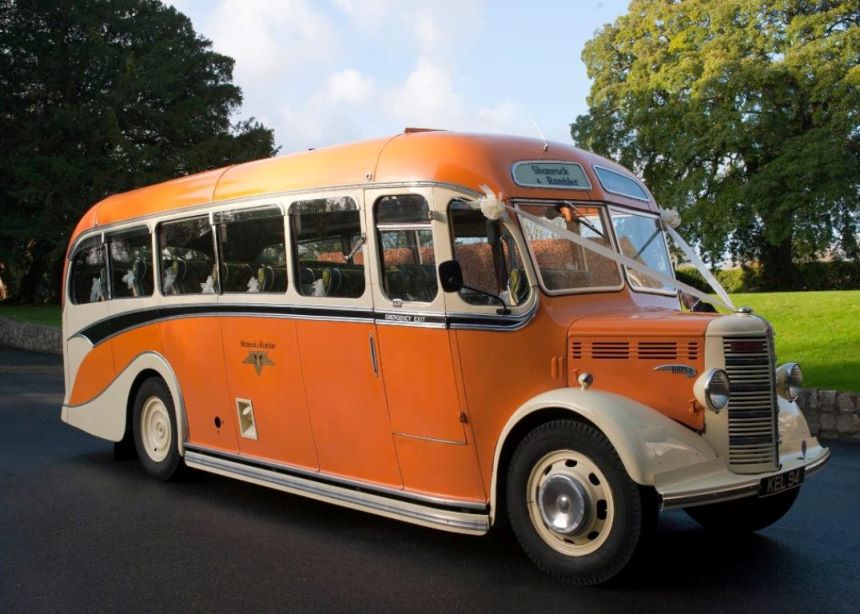 Vintage (and classic) buses are very much the number one most sought after mode of wedding transport right now and that trend looks like it will continue in the long term.  There is a wide range of buses that are suitable for wedding hire but what do you think of when imaging a vintage bus??
 The distinction between vintage and classic cars is pretty clear with vintage cars having been manufactured up until the first world war and cars after that being in the classic category.  With buses though (and we are talking about those that are generally available for wedding and event hire) the distinction is a little less clear but with the vast majority being pre 1970 or so most people do refer to them as being vintage.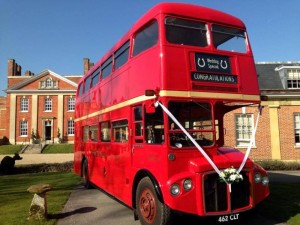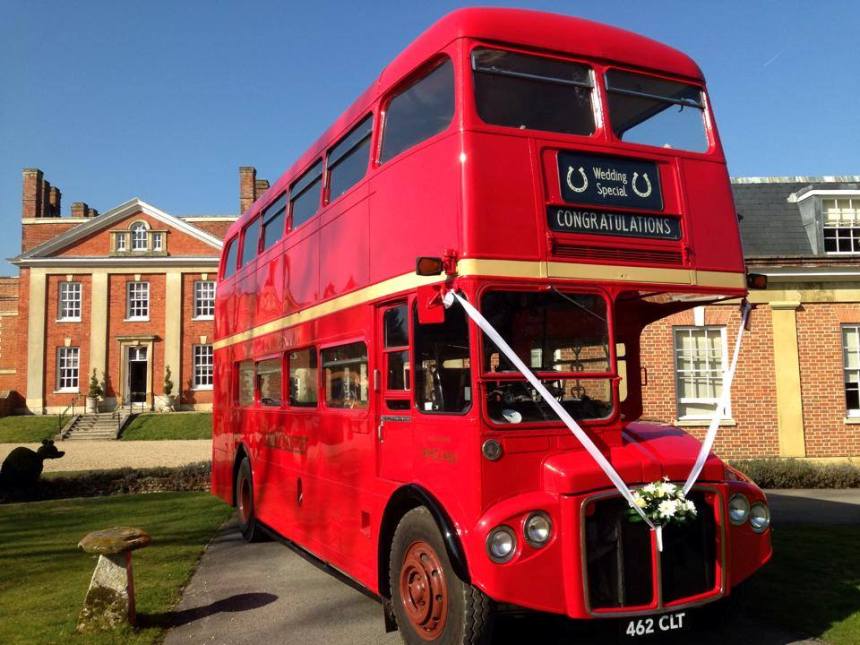 Bedfords and Routemasters
Although there are various vintage and classic buses available for hire throughout the UK such as Bristol, Leyland, AEC etc, two of the main (and most popular) buses to consider are the 1930's Bedfords and the classic Red London Buses also known as Routemasters.
The Bedfords are beautiful, unique buses that are in the smaller category, generally seating 27 – 29 passengers and really do have that quaint vintage look about them.  The fact that they also come in varying colours is quite appealing and they can certainly add a splash of colour to the occasion, they look fantastic in wedding day photos.
The Bedford OB
The Bedford OB was manufactured by the Bedford company from 1939 – 1951. Although few were built prior to world war, at the end of the war production continued and a  total of 12,766 were produced, making it one of the most popular buses of its type ever.
Seating capacity was 26 – 29 but normally 29 with overhead luggage racks provided for passengers, whilst the rear luggage boot was also used to store the spare wheel. The price of a complete coach, including finishing in a two-colour livery, was £1,314.10s for a 27-seater, and £1,325.10s for a twenty nine seater.
The OB is one of the most popular coaches in preservation and recent research shows that there are known to be 180 still in existence, nearly 70 in roadworthy condition, and 30 are licensed for private hire work. They have regularly appeared in period television programs including Foyles War and Miss Marple.
You can see all of our Bedfords and other vintage single deck buses by following this link.. https://www.firstchoiceweddingcars.co.uk/wedding-vehicles/county=all/town=all/wedding-buses/vintage-bus/
Vintage Bedford For Wedding Hire
For transporting a medium number of wedding guests to and from a wedding venue the vintage Bedford is perfect, not only do they look great but as they are not too big, access is never usually a problem.  Depending on location, there are colour choices available and most of the time these buses will travel 40 – 50 miles from base comfortably.
As there is only a lower deck it does not take more than 5 minutes for all passengers to get on board or depart and as the bus is not too big it can more often than not get very close to or even within the grounds of a church which is excellent for photo opportunities.
Routemaster
Routemaster – a name that generally covers a wide range of  vintage double deck buses that are available for wedding and event hire.  As these types of buses become more and more popular and sought after in particular for wedding hire the name Routemaster is becoming very recognisable.
Some of the double deck buses are other models such as Bristol or Leyland which actually are just as good for wedding hire in their own right etc but the Routemaster was much more mass produced and therefore there are a visibly a lot more around and not just on the streets of London.
If you imagine a classic, Red London Bus well that basically is a Routemaster and due to how iconic that type of bus is the popularity continues to grow.  When hired for a wedding or any other type of event such as birthdays, proms, day at the races, corporate trips etc the buses not only are such a practical means of transport they just have that feel about them that makes everyone look forward to travelling on one, its pretty much guaranteed that everyone travelling is going to have a good time.
Most popular for wedding hire, the London buses are great as they enable all wedding guests to travel to and from the wedding venue together and a real party atmosphere can be created, it really makes it such a social occasion that nobody will ever forget and there can never be enough photos taken!  Please follow this link to see our current full quota of buses… https://www.firstchoiceweddingcars.co.uk/wedding-vehicles/buses/
The Red Routemaster is the most popular and common colour which does suit most people as Red is the classic look but there are a number of Green buses available and occasional other colours.  As for the interior, the majority of buses will have been restored at some point and virtually all will have retained the interior look of a traditional London Bus, you will nearly always see some signs of wear inside a bus as they are heavily used with large numbers of passengers but to an extent this does add to the authentic feel and experience, it is unlikely you will find a brand new sparkling interior in any bus (apart from just after renovation).