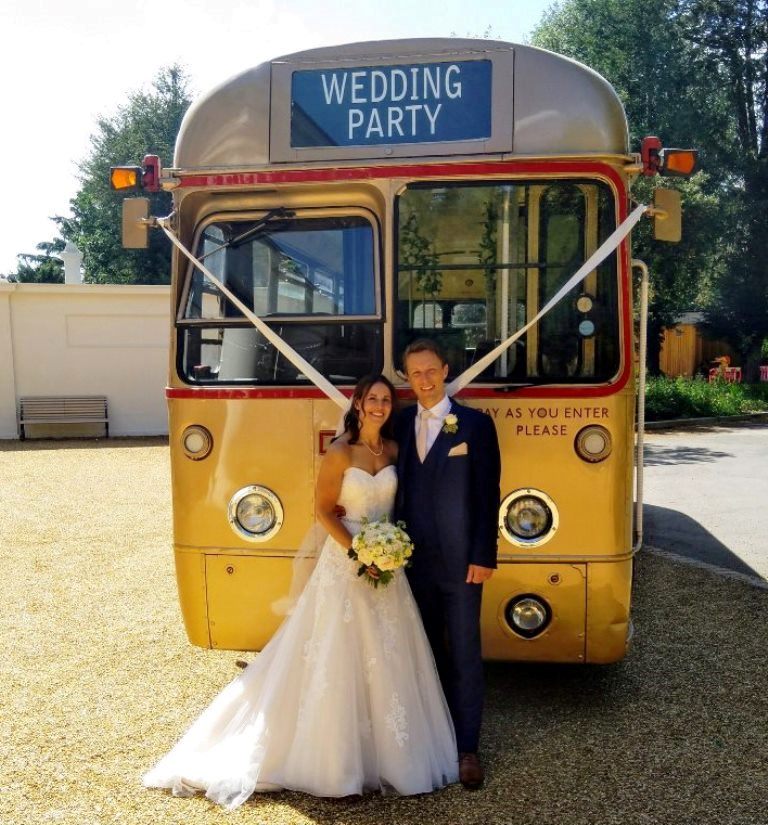 There is a wide choice of classic and vintage Buses available for wedding and event hire and popularity is on the increase due to the cost effectiveness of such a vehicle.  As prices can change all the time our advice is to book early, possibly even up to a year in advance due to high demand.
Wedding Buses are a unique way of transporting not only the bridal party but also large numbers of guests to the church and / or the reception venue.  First Choice Wedding Cars Ltd can organise a wide range of traditional, classic, double deck & single deck London buses as well as some more rare and unique vintage models. To see the current range of wedding Buses we can organise for you please follow this link… www.firstchoiceweddingcars.co.uk/wedding-vehicles/buses/
The Routemaster
Before we mention prices, first of all lets talk about the Routemaster.  The Routemaster is a traditional and classic London bus known all over the world  and is representative of British transport history and culture.
Although a lot of the buses are kept purely as collectors items, many are now operating all over the country as wedding and event transportation, they are in fact the most sought after and popular modes of wedding transport particularly the Red coloured models, this is in part due to their iconic status but also for their practicality in transporting large numbers of guests all at one time.
Wedding Bus Prices
Classic and vintage bus prices in particular can vary greatly but in general an approximate starting hire price of £500.00 should be considered.  As mentioned though, this would usually be about the minimum price you would expect to pay depending on the full itinerary.  Prices of buses have to take into consideration a lot of factors, although to the client an itinerary or journey request may seem straight forward, there are many things indeed that must be taken into account when figuring out the price for a wedding or event.
First of all the overall distance and driving time must be considered, not only does this effect the price in terms of how much fuel will be used but also the amount of hours a vehicle will be on the road will dictate how much the driver and possibly other members of the crew will be paid, there are also legal working/driving hours to be factored in.  Something else that a member of the public may not appreciate is the amount of preparation time required before a bus leaves a depot and also how much time is needed after a job once the vehicle arrives back at its depot in terms of cleaning, paperwork etc is concerned.
Figuring out the route that a bus will take is very important and must be taken into consideration prior to working out not only the length of hire but also the suitability and confidence that the job can be undertaken.  If the route, part of the route or access to anywhere is impeded by trees, low bridges, narrow lanes etc etc then this potentially could lead to a bus not being able to undertake the job or a change in route be necessary.
Timings again must also be considered very carefully, generally a bus will travel slower than the average car so although distance between addresses may not seem great, if the bus is going to take more time than a bus then this needs to be thought about when figuring out collection and arrival times.
Quite often we are asked for a bus to make more than one or even multiple trips between addresses; if the distance and travel time is very short, for example just a few miles and 10 minutes or so then of course this can be done but any longer than that and it becomes non practical particularly from a customer point of view, the last thing you want is for your wedding guests to be waiting 30 – 40 minutes or even longer for their wedding transport to arrive back from the first trip and vice versa the first group of guests would be waiting a similar time for the second group to arrive.  In these instances it is wise to consider hiring more than one bus.
History and models
The AEC Routemaster is a double deck bus that was designed by London Transport and built by the Associated Equipment Company (AEC) and Park Royal Vehicles. The Routemaster was first exhibited at the Earl's Court Commercial Motor Show in 1954, the first prototype was completed in September of that year and the last one was delivered in 1968. The first Routemasters entered service with London Transport in February 1956 and the last were withdrawn from regular service in December 2005, although one heritage route is still operated in central London.  Despite the retirement of the original version, the Routemaster has retained iconic status, and is considered a British cultural icon.  In 2006, the Routemaster was voted one of Britain's top 10 design icons which included Concorde, Mini, Spitfire, the London Tube Map etc.
The maximum number of passenger seats of a Routemaster and indeed the most in demand is 72 seats, on nearly all occasions this is ample for the entire party although it is not uncommon for two or more buses to be used for larger numbers. Other common seating capacities are 64 and 56 but aside from capacity there are also other differences in varying models produced over the years.  From the classic range of Routemasters the models were either an RM (standard length) for up to 64 passengers or RML (longer length) for up to 72 passengers or an RMC, classified as a coach version.
These two links will show you an RM model and secondly an RML model…
www.firstchoiceweddingcars.co.uk/wedding-vehicle/buses/berkshire/red-routemaster-wedding-bus/0272/
www.firstchoiceweddingcars.co.uk/wedding-vehicle/buses/buckinghamshire/routemaster-buses/0019/
Such was the popularity of the Routemaster that many calls continued to be made for a new version of the vehicle to be produced. On 3 September 2007, Conservative mayoral candidate Boris Johnson announced that he was contemplating introducing a modern-day version of the Routemaster. In December 2007, UK magazine Autocar commissioned leading bus designer Capoco to come up with detailed proposals for a new-generation Routemaster.
Johnson backed the Capoco design in principle and suggested that he would hold a formal design competition to develop a new Routemaster if he became London mayor in 2008. After he was elected, this competition was held for general ideas and detailed designs, with cash prizes for the winning entries. The results of the competition were published on 19 December 2008, with the winning and other good proposals being passed to bus manufacturers to draw up a final design. The winners included two joint "whole bus" designs, one submitted by Capoco and one submitted by Aston Martin and Foster + Partners.
Initially named the New Bus for London and later the New Routemaster, eight prototypes entered service in February 2012 and by 2017 the fleet was expected to be 1000.
Other classic buses
As well as Routemasters there are also other classic double deck bus models such as Bristol, Leyland, Dennis, Daimler etc, here is an example of a 1964 Daimler 100 CCG5 … www.firstchoiceweddingcars.co.uk/wedding-vehicle/buses/berkshire/classic-1964-wedding-bus/0319/
In and around London in particular there are a lot of traditional Red Routemaster buses operating but as you look further afield you will come across a wider variation of classic buses also available for wedding and event hire. What is nice about these buses and also appealing is the fact that they are different to the classic all Red buses and indeed offer more choices in terms of colour, Green, Green and Cream, Red and Cream, White being a few notable examples.  Another factor that is often taken into account particularly with regards to the colour scheme is perhaps the colour scheme of the wedding but more likely trying to either match or obtain a good contrast to the colour of wedding car being used.
Occasionally a double deck bus may not be able to access certain venues or roads and its then that the single deck models come into their own.  The passenger capacity may be less but the vintage style quirkiness and charm of the 1940's Bedfords, the 1960s Bristols or the AEC RF models really fit well into a vintage themed wedding or event.
Vintage Buses
Moving onto the vintage (and classic) single deck buses.  It cannot be underestimated how increasingly popular vintage buses are for wedding transportation.  Whether or not you have a vintage theme to your wedding, these old fashioned buses from a bygone era always look the part as well as serve a practical solution to moving wedding guests, family, bridesmaids etc to and from your wedding venue.
The Red AEC models (pictured below) are basically single deck versions of the double deck Red London bus but the 1940's Bedfords and also the Bristols are out and out classic / vintage models commonly seating anything from 20 – 40 passengers although we can also organise a 1937 Bedford WS which seats just 11.
Another huge advantage of the smaller vintage buses is access to streets, churches and venues where a larger bus may struggle, this would commonly be if gated access is restricted, if there are low tree branches or if the turning round of a vehicle is difficult, these are some of the factors that need considering when booking a bus, sometimes it is worth paying a bit extra to order two smaller buses over one large one – just to be confident that the vehicle will be able to undertake the journey with no issues.
Vintage models and history
The Bedford OB is one of the most sought after vintage buses, it comes in varying colours and is a truly magnificent looking vehicle.  The Bedford OB was designed to carry 26 to 29 passengers and was first manufactured in 1939 but only 79 were made prior to world war 2. After the war and up until 1951 a further 12,766 more were produced, making it one of the most popular buses of its type ever. At the time the average price for one of the Bedfords was around £1300.00, nowadays for one in good condition you could pay anything from £40,000 upwards.
After the second world war, London Transport's red bus fleet needed major renewal.  First in line were the double-deckers but between 1946 and 1948, as a stop-gap measure, it also purchased 181 new red single-deckers of pre-war design.  Meanwhile, it continued to run a large number of elderly single-deckers from 1929-32, these single-deckers were used mainly on routes where low bridges made double-deck operation impossible.  Throughout the 1950's and 1960's the Red RF or AEC Regal 1V was the standard single-decker in the London Transport fleet and some of these buses are now available for hire in the wedding and event industry, they are suitable for 39-41 passengers and still are used commonly when there are smaller groups to transport or where access / low tree branches is an issue.
The single deck Bristol Buses were developed by Bristol Commercial vehicles who eventually were taken over by its then parent company Leyland in 1983.  From as far back as 1908 until the 1960s Bristol produced a range of single deck buses ranging in capacity typically between 20 -40.  The majority of them were Green / Green and Cream in colour although some Red models were produced, many of them are still in operation and available for hire whereas a lot are stationed in museum transports or are privately owned but not available.  Please follow this link to see the 1964 Bristol MW based and available for wedding hire in East Sussex via First Choice Wedding Cars… www.firstchoiceweddingcars.co.uk/wedding-vehicle/buses/east-sussex/vintage-wedding-bus/0440/
Coaches
Modern, executive coach hire is another alternative and sometimes preferred option of wedding and/or event transport.  Often  modern coach is preferred because it may be more flexible with regards to access to locations and venues, can navigate narrow roads a little easier and are less impacted by low tree branches and bridges.
This type of transport can also provide passengers with a more comfortable journey, often with bathroom facilities and ability for soft & hot drinks to be available, this can be especially convenient for longer, more time consuming journeys and also if it is important for a large amount of luggage to be carried.
On many occasions, a modern coach will be booked only for an evening return journey, for example from the reception venue back to a hotel(s) or a specified drop off point.  This would usually be because the vast majority of classic and vintage buses, due to the nature of the vehicles, will not undertake late evening work due factors including amongst others lighting, comfort, warmth etc.
Just like the older buses, coaches come in all different capacity sizes, a mini coach may only seat 20 – 30 whereas a full size coach can seat in excess of 50 guests.