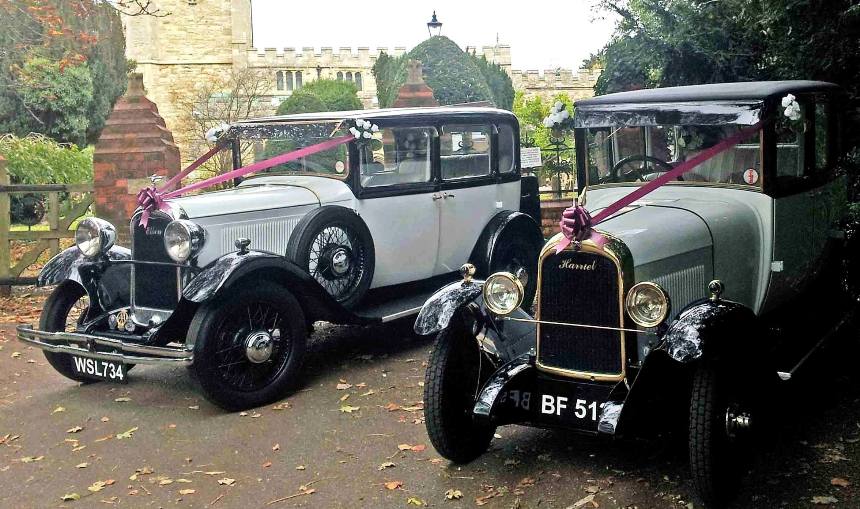 Wedding cars from www.firstchoiceweddingcars.co.uk can be selected from a very diverse and wide range of options including vintage, classic and modern as well as some more unique choices.
First Choice Wedding Cars are here to help you find the perfect wedding transport for your special day.  We have access to one of the largest and most diverse selections of specialist wedding vehicles covering the South of England, London and beyond, this means you do not have to spend hours searching on different websites to find the car of your dreams.
Types Of Wedding cars
From the range of wedding cars to choose from Rolls Royce is the long standing traditional name that really stands out when somebody first thinks about hiring a wedding car.  There are also of course other household makes and models of cars that are also very popular and sought after such as Bentley, Jaguar, Daimler, Beauford, Mercedes, Austin, Armstrong, Cadillac, Ford, VW etc.  Each one of these car makes will also have various models among them which really expands the choices of available wedding cars
Vintage Cars
Vintage wedding cars in the UK are classed as cars built from 1919 – 1939. Any vehicles built before 1919 are referred to as Historic vehicles. The most popular vintage wedding cars are from the Rolls Royce range, including the Phantom, Ghost, Wraith and many Landaulettes (convertibles). We can also organise the vintage style Bramwith, Badsworth, Regent etc.
Classic Cars
The Classic car era began in 1945 after world war 11 when the motor industry really boomed.  Classic vehicles are divided into the early classics up to 1970 and then from 1970 to approx 1990 are generally classed as modern classics although there is no exact definition as cars are constantly getting older. Our most popular classic wedding cars are the Rolls Royce Silver Clouds and 1950s Bentleys.  The 6-7 seat Austin Princess and Daimler Limousines are also very popular classic wedding cars as well as Rolls Royce Silver Shadows, Silver Spurs and Silver Spirits.
Modern Cars
The classification of what is a true Modern car is open to debate as cars age and models vary but a general rule of thumb is that any vehicle made in the last 20 years or so is classed as modern. Even though there are of course many modern cars to choose from, there are certain prestigious makes & models accepted as suitable for wedding hire.  Among those are Mercedes, Jaguar, Chrysler and of course Bentley & Rolls Royce.
Beaufords
All 1930s vintage style Beaufords are hand crafted and are all unique. Based on the 1920's – 1930's Duesenberg and the Packard Eleventh Series Eight Sedan, these replica wedding cars offer the style and finesse of these truly amazing vintage cars with the reassurance of modern mechanical enhancements. The majority of Beaufords are Tourers (open top convertibles) giving the option of the roof being up or down, some of the two seat models may have the front seat removed for ease of access for the larger bridal dresses.
American Wedding Cars
The choice of American wedding cars we can offer is growing all the time due to increased popularity.  American wedding cars can be vintage, classic or modern and are often unique in style, shape, size & colour. Please see our range of American cars including Cadillac, Chevrolet, Ford Mustang, Oldsmobile, Studebaker etc.
See our current range of wedding cars for hire
By following this link you can see our complete range of vehicles that are available for hire as wedding transportation.  You can see vehicles in counties, towns and cities across the UK…  https://www.firstchoiceweddingcars.co.uk/wedding-vehicles/