THE CLASSIC RED LONDON BUS
Possibly the most iconic mode of London Transport (along with a Black Cab) is the classic Red double deck bus – also known as the Routemaster.
The Routemaster Bus was developed by in the mid 1950's by AEC (Associated Equipment Company) in partnership with London Transport primarily as transport on the streets of London although some were used by airline companies and also by the Northern General Transport company.
Classic Red Routemaster Bus

Classic London Bus

Classic London Buses
ROUTEMASTER
Commonly known as and referred to as a Routemaster, these classic and traditional double deck buses are an iconic vehicle not just in London but across the world and it is testament to the design and build quality as well as enthusiasm from new owners and collectors alike that so many of them still operate today. In London in particular it is often quite high on the list of a tourist to travel on one of these iconic classic buses to see the wonderful sights of London from a different perspective.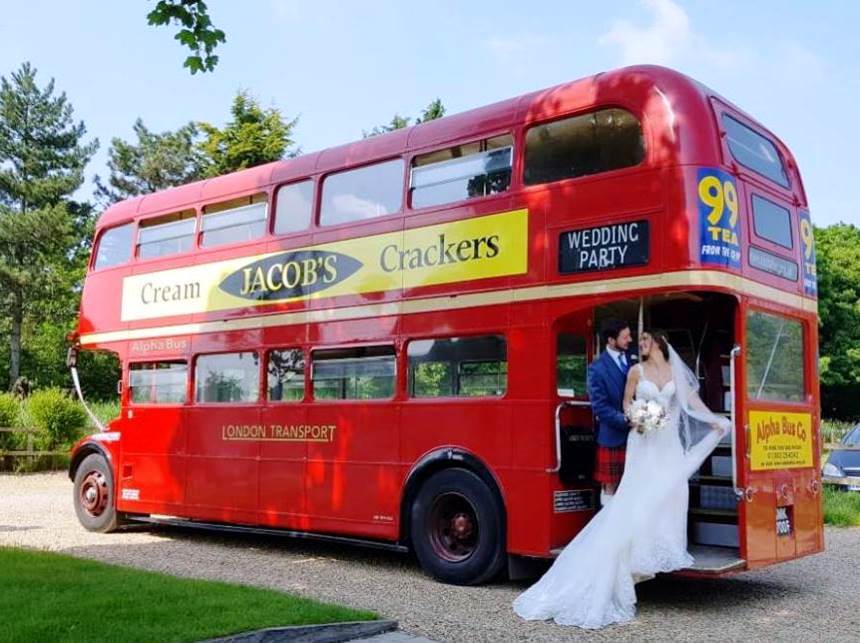 WEDDING HIRE AND PRIVATE HIRE
In London and in many other parts of the UK, the Routemaster Buses have in recent years grown hugely in popularity for wedding and private hire. Although for many years the buses may have been used in London for corporate events, sightseeing tours etc the demand has increased substantially for wedding hire in particular.
ROUTEMASTER BUS FOR WEDDING HIRE
A classic London bus is a fun and unique mode of wedding transport and at the same time is practical and a cost effective way of transporting wedding guests to and/or from a wedding. Many people will want a bus to take their guests to the church / wedding venue and then onto the reception whereas others will need the bus just to go from the church onwards.
The London Routemaster buses vary in passenger capacity and generally it is between 56 and 72 with 72 being the maximum. For weddings in particular this represents a very large group of guests that can be transported all in one go which is not only convenient and cost effective, but it also generates a real fun and feel good atmosphere for all those on board. You can see a range of classic London Buses and other wedding buses here…
https://www.firstchoiceweddingcars.co.uk/wedding-vehicles/buses/
DECORATIONS AND EXTRAS
As standard the classic buses will come with a professional and experienced driver plus a conductor who is responsible for ensuring that all passengers are on board and in their seats safely – he or she can also help if there are to be any refreshments on board.
The regulations can vary from bus to bus and company to company but generally speaking if advance notice has been given then drinks (including alcoholic) can be served and certain food items consumed. The destination sign on (usually) the front of the bus can come as a standard sign which may typically be a London destination or it could say 'Just Married', 'Congratulations' or a similar message. For a small additional cost these signs can be personalised and you can then keep the sign after the wedding/event has finished.
It is usual for a ribbon to be tied to the front of the bus mainly for weddings and if you would like the interior of the bus decorated this can be done with prior arrangement and agreement over any potential added costs.