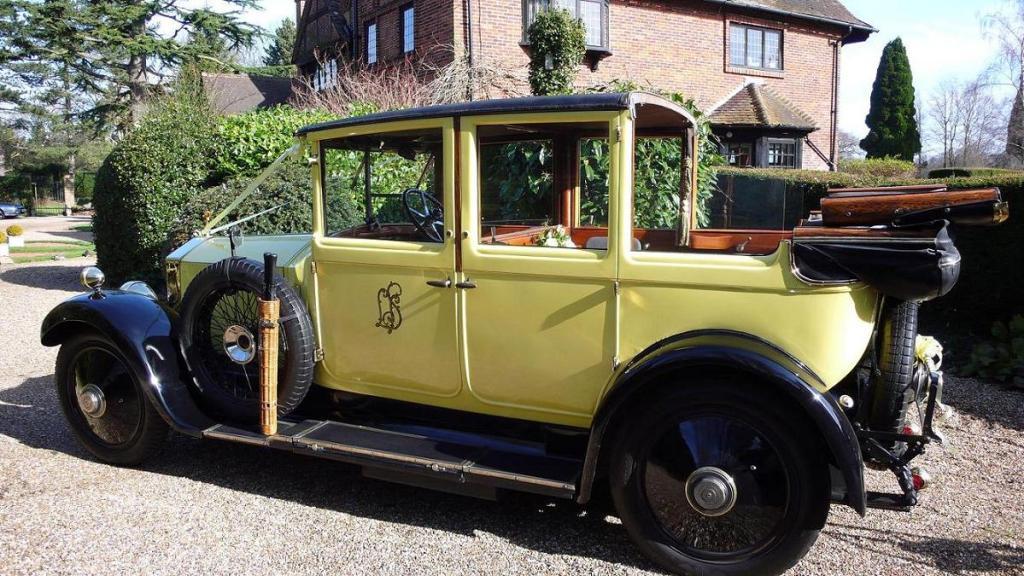 Vintage cars in the UK are classed as cars built from 1919 – 1930 but in reality this extends to 1939 when production mostly ceased because of the first world war.
The distinction between historic, vintage and classic vehicles can vary amongst some enthusiasts but the classification made by the major car clubs is what is typically used as a guide.  There are a few but not many historic cars (pre 1919) available for wedding hire but the majority of actual vintage cars are those built from the late twenties up until 1939.  After the war, from around 1948 onwards and up to around the late seventies and maybe even some of the eighties cars will be classed as classics although even this category can be divided into sub categories such as post war classic and modern classic.
VINTAGE WEDDING CARS
Vintage cars are and always will be a very popular mode of wedding transport.  Not only are they unique but they just look beautiful and really add to the sense of the occasion, often coming with history of their rich, famous and royal owners or passengers of the past.
It is amazing what great condition some of these 80 – 90 year old cars are in, yes they will have been lovingly restored in most cases but there can be no doubt that mechanically and structurally these cars were built and designed to very high standards indeed.
Please read on for information about many of the vintage cars that are still operating around the UK (and all over the world) not just as wedding cars but as cars for many different occasions – or that are just privately owned.
ROLLS ROYCE
The most popular vintage wedding cars are from the Rolls Royce range, including the Phantom, Ghost, Silver Wraith etc.
The Roll Royce Phantom wedding cars provide a great mode of transport for not only the bride and groom but also for bridesmaids, family & guests. The Rolls-Royce Phantom III was the final large pre-war Roll Royce introduced in 1936, it replaced the Phantom II.  The Silver Ghost was first produced in 1906 and the Silver Wraith was the first post-war Rolls Royce, it was announced by Rolls-Royce in April 1946 as the replacement for the 1939 Wraith.  The Rolls-Royce 20/25 was the second of Rolls-Royce Ltd's pre-war entry level models, built between 1929 and 1936, it was tremendously popular, becoming the most successful selling inter-war Rolls-Royce.
Vintage Rolls Royce wedding cars from First Choice Wedding Cars Ltd… https://www.firstchoiceweddingcars.co.uk/wedding-vehicles/county=all/town=all/vintage-cars/rolls-royce/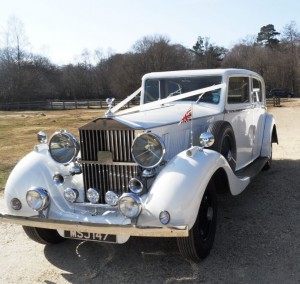 BENTLEY
Bentley Motor Cars is a British manufacturer of luxury cars with headquarters in Crewe, England.  The company was founded by W.O. Bentley in 1919 in Cricklewood, North London and became widely known for winning  the 24hrs of Le Mans race during the 1920's.
In their early years, the majority of Bentley cars were sports cars such as those racing at Le mans but in 1931 Bentley were bought out by the Rolls Royce company and after the second world war production of luxury cars became more prominent although these cars fall in to the classic era.  Examples are the Bentley R Type, S Type and MKV1 models.
AUSTIN
Another British company, The Austin Motor Company were founded in 1905 by Herbert Austin.  Although many Austins were produced, to see the vintage models on the streets and available for wedding hire is quite a rarity these days which actually does add to the attraction.  By following this link you can see an example of a beautiful fully restored 1935 Austin 12/6 Ascot now based in Berkshire… https://www.firstchoiceweddingcars.co.uk/wedding-vehicle/vintage-cars/berkshire/1935-vintage-austin/0198/
Similar to Bentley, there are now more classic Austin wedding cars available for wedding hire, in particular the Austin Princess which was manufactured from the late 1940's and into the seventies although it is really the forties, fifties and sixties models that are most popular.
CITROEN
In 1919, Frenchman André Citroën launched the Type A, Citroens first vehicle and over the course of the next year more than 10000 cars were sold.
Despite the death of Andre Citroen in 1935, production of many vintage models continued up until the beginning of world war 2 during which time the Citroen factory in Paris was bombed – in 1926 almost a third of cars in France were Citroen, there was also production from the Uk depot in Slough.
Of the vintage models that still stand out today and are used as wedding transport are the C models  including the 5CV, 8CV and 15CV and also the Avant.  As times moved into the classic era of the 1950's the Avant was continued albeit with a new curvaceous shape.  This link will show some of the vintage Citroens available to First Choice Wedding Cars…. https://www.firstchoiceweddingcars.co.uk/wedding-vehicles/county=all/town=all/vintage-cars/citroen/
DAIMLER
The Daimler Company Limited was a British motor vehicle manufacturer founded in London in 1896, which set up its manufacturing base in Coventry. The company bought the right to the use of the Daimler name from Gottlieb Daimler and Daimler Motoren Gesellshaft of Germany.
After a reorganisation of the company in 1904, the Daimler Motor Company was purchased by BSA (Birmingham Small Arms Company) in 1910 which also made cars under its own name before World War I.  The company was awarded a Royal Warrant to provide cars to the British Monarch in 1902 before being replaced in the 1950's by Rolls Royce.
In the 1960's, BSA sold Daimler to Jaguar Cars.  In turn Jaguar was then bought by Ford who then sold Jaguar to Tata Motors in 2008.  In 2013 Jaguar Cars merged with Land Rover to form Jaguar Land Rover Limited who now have the rights to the Daimler brand!
Numerous vintage and more commonly classic Daimlers were and in some cases still are used as wedding cars, in particular the 1950's. 1960's and 1970's DS420 models which are either in Landaulette or Limousine styles.
FORD
Based in a suburb of Detroit, Michigan and founded by Henry Ford in 1903, the Ford Motor Company would go on to become one of the largest and most profitable companies in the world.
Between 1903 and 1908, Ford produced the Models A, B, C, F, K, N, R, and S of which hundreds if not thousands were sold per year.   In 1908, Ford introduced the mass-produced Ford Model T, there are very few working examples left around, please see photo for a beautiful 1912 Model T which can still be privately hired from its based just south of London.  PHOTO HERE…
In 1922  Henry Ford purchased the Lincoln Motor Company in order to compete with brands such as Cadillac and Packard for the luxury end of the market and in 1939 to compete with rivals General Motors' mid-priced cars such as the Pontiac, Oldsmobile, and Buick, Ford created the Mercury, a car that went on to be produced until 2011.
In 1929, Ford was contracted by the government of the Soviet Union to set up the Gorky Automobile Plant in Russia initially producing Ford Model A and AAs thereby playing an important role in the industrialisation of the former Soviet Union.
RENAULT
The Renault Automobile Company was founded in France in 1899 by Louis Renault and his two brothers.  The first Renault was in fact produced in 1998, a year before the company was even formed and it was called the Renault Voiturette 1CV.
In 1905, the Société des Automobiles de Place bought Renault AG1 cars to establish a fleet of taxis which was the first major coup for Renault – these vehicles were later used by the French military to transport troops during world war 1.  By 1907, a very large percentage of London and Paris taxis had been built by Renault.  Renault was also the best-selling foreign brand in New York during 1907 and 1908.

The years in between world wars 1 and 2 is when Renault really mass produced many different models ranging from small family cars to sports cars that participated in motor racing to luxury cars such as the Vivasix Landaulette one of which can be seen by following this link and as pictured below… https://www.firstchoiceweddingcars.co.uk/wedding-vehicle/vintage-cars/east-sussex/vintage-renault/0146/
SINGER
Singer Motors Ltd was formed in 1901 and produced cars until 1970.  Singer were a British company that originally produced bicycles and were formed by George Singer in 1874.
Its first car came into production in 1905 and from then until the beginning of the first world war they produced a whole range of vintage cars of different sizes and shapes.
Unless you are a real vintage car enthusiast, Singer is not a name that is instantly recognisable and indeed many of the pre war cars are classed as rare, so much so that of all the vintage cars on the First Choice Wedding cars website you will only see one Singer – a 1933 14hp saloon as per this link and pictured below.. https://www.firstchoiceweddingcars.co.uk/wedding-vehicle/vintage-cars/hampshire/vintage-1933-wedding-car/0017/
STUDEBAKER
Studebaker was an American automobile manufacturer based in South Bend, Indiana and founded in 1852.
Originally a producer of vehicles for farmers, miners, and the military, Studebaker entered the automotive business in 1902.  After years of producing many historic and vintage cars, the company merged in 1954 with luxury car maker Packard although this was only brief and they reverted back to The Studebaker Corporation name in 1962.
One of the first gasoline cars produced by Studebaker was the Studebaker-Garford from 1904 to 1911, example photo below:
The company then released various models including the Light Four, Big Six, Special Six.. these numbers referring to the engine cylinders.  Throughout the 1920'2 and 1930's Studebaker produced various models from the 'Commander' range including the 'Roadster'.
The final Studebaker came from their Ontario, Canada production line in 1966 but during the 1950's in particular a range of the classic 'Hawk' models including The Golden Hawk were built, follow this link to see a beautiful example of 1956 Golden Hawk…. https://www.firstchoiceweddingcars.co.uk/wedding-vehicle/american-cars/wiltshire/1956-studebaker-golden-hawk/0416/
VAUXHALL
Vauxhall Motors Ltd was founded in Vauxhall. London in 1857 but did not actually start manufacturing cars until 1903.  The company was owned by American company General Motors from 1925 till 2017 before being acquired by French company PSA who also manufacture Peugeot, Citroen, Opel etc.  Vauxhalls first car was built in 1903 and about 70 were made, all with just two forward gears and no reverse gear!  There is just one known surviving car.
To expand, the company moved the majority of its production to Luton in 1905 and then in 1908 the companys' new designer delivered the Y Type Y1 model which was entered into the 1908 RAC and Scottish 2000 Mile Reliability Trials with great success.  After this came the A Type of which 4 types were produced between 1908 and 1914 .
From 1911 – 1914 Vauxhall produced the Prince Henry often thought of as the first sports car due to its high performance and overall excellence of design and sturdiness of construction.  During the First World War, Vauxhall made large numbers of the D-type, a Prince Henry chassis with de-rated engine, for use as staff cars for the British forces.  After the 1918 armistice, the D-type remained in production, along with the sporty E Type.
The period between the end of the 1st and 2nd world wars saw a lot of changes, first of all the company was acquired by General Motors in 1925 and for a while heavily marketed the low cost Vauxhall Cadet as well as the Bedford truck range.  During the 2nd world war, car production at Luton was topped while the company worked on the new Churchill tank of which more than 5,600 were produced as well as  around 250,000 lorries for the war effort.
WOLSELEY
Wolseley Motors Limited was a British car manufacturer founded in early 1901.  It initially made a full range of large luxury cars and dominated the market in the Edwardian era.  The managing director of the company at the time interestingly was Herbert Austin who later founded the Austin Motor Company.
The first two models were 5 hp and 10 hp respectively and were both available with either a Tonneau or a Phaeton body with either pneumatic or solid tyres.  The Wolseley range grew quickly and they soon became the largest British motor car manufacturer, in 1904 Queen Alexandra purchased a 24hp landaulette model.
The on going list of Wolseley cars produced both before and after the second world war is quite comprehensive, a full list can be seen by following this link.. https://en.wikipedia.org/wiki/List_of_Wolseley_automobiles